JACE CLAYTON'S ROOM 21
The Barnes Foundation
September 9, 2016
About Room 21
The Barnes Foundation is pleased to present Room 21, a new musical performance piece by composer Jace Clayton, also known as DJ /rupture, on the Opening Night of the Philadelphia Fringe Festival. The project is curated by Lee Tusman, in association with Ars Nova Workshop. The site-specific hour-long composition is written and choreographed by Clayton in response to the art and objects included in the Barnes collection as well as Dr. Albert C. Barnes's own vinyl record collection. Clayton was drawn in particular to room 21 of the Barnes collection, which contains an eclectic mix of works including Pennsylvania German furniture, Amedeo Modigliani's painting Reclining Nude from the Back, African masks, religious works, and paintings by Barnes students. The composition includes select melodies and themes from Barnes's extensive vinyl record collection, which features a variety of spirituals and classical music. Room 21 will be performed in the Barnes Foundation's Annenberg Court by an ensemble consisting of more than a dozen musicians, including the Prometheus Chamber Orchestra, banjoist Ben Lee, Ethiopian Musician Gezachew Habtemariam and Pianist Emily Manzo, all wearing custom costumes handcrafted by fashion designer Rocio Salceda of Prellezo. Based in New York City, Jace Clayton uses an interdisciplinary approach to focus on how sound, memory, and public space interact, with an emphasis on low-income communities and the global South. Bob Hammond of New York Magazine called him "a one-man musical Venn diagram, linking up genres, people, styles, and beats."
Room 21 has been supported by The Pew Center for Arts & Heritage.
Jace Clayton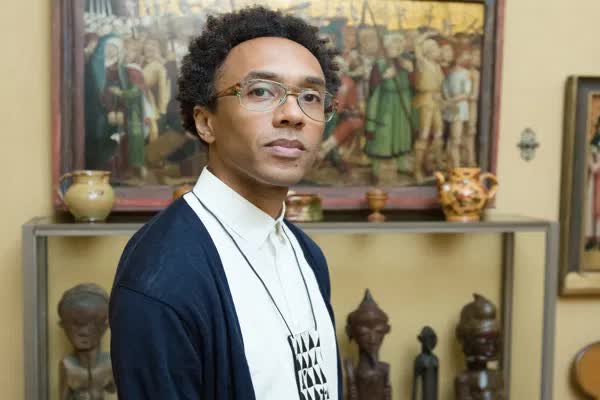 Jace Clayton lives and works in New York City. Clayton uses an interdisciplinary approach to focus on how sound, memory, and public space interact, with an emphasis on low-income communities and the global South. His book Uproot: Travels in 21st Century Music and Digital Culture will be published in August by Farrar, Straus and Giroux. Recent projects include Sufi Plug Ins, a free suite of music software-as-art, based on non-western conceptions of sound and alternative interfaces; and The Julius Eastman Memorial Dinner, a touring performance piece for grand pianos, electronics, and voice.
As DJ /rupture, he has released several critically acclaimed albums and hosted a weekly radio show on WFMU for five years. Clayton's collaborators include filmmakers Jem Cohen, Joshua Oppenheimer, poet Elizabeth Alexander, singer Norah Jones, and guitarist Andy Moor (The Ex).
Clayton joined the Music/Sound faculty of Bard College's MFA program in 2013. He is a 2014 New York Foundation for the Arts Nonfiction Literature fellow, a 2013 Creative Capital Performing Arts grantee, and recipient of a Foundation for Contemporary Art artists award, and has been an artist-in-residence with the Lower Manhattan Cultural Council, Eyebeam Art + Technology Atelier, and a USC Annenberg/Getty Arts Journalism fellow. Clayton has given artist talks at MoMA PS1, Harvard University, California Institute of the Arts, Cooper Union, etc., and has performed in over three dozen countries.
Composition and Choreography
Jace Clayton
Masinqo
Gezachew Habtemarium
Banjo and Guitar
Benjamin B. Lee (Baby Copperhead)
Keyboard
Emily Manzo
Guitar and Vocals
Arnold de Boer (Zea)
Voice
Eric Rath
Prometheus Chamber Orchestra
Violin
Elizabeth Cary, Vena Johnson, Joseph Kauman, Russell Kotcher, Rodolfo Leuenberger, Lorenzo Raval, Angela Sulzer
Viola
Jennifer Boorum, Veronica Jurkiewicz, Steve Heitlinger
Cello
Eric Coyne, Mirjam Ingolfsson, Thomas La Forgia
Bass
Daniel Turkos
Costume Design
Rocio Rodriguez Salceda / Prellezo
Questions? Media inquiries?
Access The Archive
Room 21 was held on September 9, 2016 at The Barnes Foundation.
Visit the online archive to see documentation of the project including full concert audio and video recordings, interviews, notes and photographs.